This site uses cookies. By continuing to use this site, you are agreeing to our use of cookies.

Learn More.
​
Hey d00ds!
I wanted to make a post just to say thank you to everyone. I've done this three other times and each time I always look back and appreciate our awesome community.
Today marks the Fourth Anniversary of InfiniteHeights and I personally want to thank everyone for the continuous support, fun times and the awesome community. We are one of the longest standing Minecraft servers out there and, for a game that has the popularity that it does, that's amazing. Some of the players are still around from four years ago! I can't name off names because everyone has helped in some way but I think saying thank you is a good idea.
First off, thank you to all of you who join each and every day, the server wouldn't be what it is without you.
Thank you to my extremely helpful staff team for all that you do, you're all awesome.
Thank you to all of you who vote every day and encourage others, to all of our generous donors, all the bug reporters, everyone's suggestions, the support, and again, everyone who joins and plays each day.
For the rest of the week we'll be doing drop parties, releasing something new, giving out money, and having a 30% off sale in the store.
In addition, I've added something pretty special to the server: pets!
You can access your Pets Menu with the command /pets.
These are the pets that are available to each rank:
Player
Mooshroom

Tier 1
Chicken

Tier 2
Pig

Tier 3
Sheep

Tier 4
Cow

Tier 5
Zombie
Cave Spider

Tier 6
Spider
Wolf

Tier 7
Skeleton
Silverfish

Tier 8
Ocelot
Witch

Iron
Creeper

Gold
Magma Cube

Emerald
Guardian

Diamond
Rabbit

Obsidian
Endermite

Beacon
Slime
Iron Golem
Thank you for the past four years. We have a LOT of exciting things planned this year.
Disc
Hello everyone!
We've taken the last few days to update all of our rules on InfiniteHeights across all of our services. This will help avoid any confusion, clarify many questions, and fill in the gray areas that were in the previous list of rules. These rules are now active on all of our services, therefore you must follow them. You can find the entire list of rules by clicking here:
InfiniteHeights Rules
We have also introduced the ability to report other players or Moderators to the Administration Team. These reports will strictly remain between myself, the Admins and the reporter. If you see someone breaking the rules, we encourage you to report them here:
Report Abuse/Hackers
Thank you!
- Disc
The Floating Island of Icefell
​
Hey d00ds! It's been a while since our last event. Once again, we kicked it up a notch even further with our brand new Winter 2016 event. The people of Icefell village are in need of our help! They face total destruction due to a curse placed upon them 6 years ago. Unravel the mysteries behind Icefell Island with your friends in this epic adventure. Let the mayhem begin!
Story
6 years ago, a mysterious ice dragon named

Trextex

had descended upon Icefell Island to wreak havoc and destruction. He would have succeeded had it not been for the cursed one dwelling in the mountains.

Jessý

the mirror witch. Though she had been outcast from the village, she loved her home. She sealed

Trextex

, the dragon, away at the cost of her soul. Her curse became the town's and thus the villagers had to pay tribute to her lost soul or they would pay the ultimate price...

Your mission is to investigate the island and find a way to lift the curse to save Icefell.

Event Duration
The event will be held from January until the end of February. During the beginning of February, the credits will be available to teleport to via The Frozen Opossum Tavern & Inn.

Important Things to Know
Almost all mobs drop Winter 2016 Vouchers in this world. You can exchanged them for prizes.

This event is HARD!!!!!!!! Work together as much as possible. You will most likely not be able to complete the event solo.

To enter the event area, go to the Event section at spawn, or type "/warp event".

Any items lost during the event will not be replaced. This includes the items lost in the PVP region. (You will...
Hey d00ds!
In an effort to ensure everyone is aware of the events surrounding the server's recent downtime, I am going to share the information openly.
The survival server was hacked, and someone was able to OP themselves and one other individual. During this time, the hackers had access to a variety of commands and caused considerable damage.
We have banned the offender, fixed security loopholes used by the offender and the server was restored to a backup from December 25th, 2015.
While most of the damage was fixed and now guarded against future incidents, not all damage was capable of restoration. The only remaining unresolvable issue is the complete loss of players' balances.
Because this reset the Survival balances, all players will see that their balance now reflect the cost of their current tier (as of December 25th's backup). If you are a player who does not have a Tier, you were given the "Player" amount below.
Player: $15000
Tier One: $30,000
Tier Two: $63,000
Tier Three: $141,000
Tier Four: $276,000
Tier Five: $375,000
Tier Six: $555,000
Tier Seven: $840,000
Tier Eight: $1,140,000
The monetary compensations above are only given to players who have previously joined the server before December 29th, 2015.
In addition, if you ranked up to a higher tier on or after December 25 up to the server's downtime, please use the /ticket system to report the issue for further assistance and we will restore the rank.
Please keep in mind that there are some things that are simply beyond our control when it comes to running a server, and things like this are a risk. The only thing that we can do is move forward and continue having fun.
Thank you all for your patience and understanding. Times like these are what makes a server a true community. You are all awesome!
- Disc
​
Hey d00ds!
We've been hard at work making sure to make the month of December a holiday-filled month of fun! Hopefully everyone is almost done school or if you're already finished, we hope you're enjoying your break! Now on to the exciting stuff!
Holiday Themed Hub
As you may have noticed, the Hub has been decorated to celebrate the season! It will remain until the end of the month.
Advent Calendar
If you've been paying attention in chat you will have noticed that you earn rewards for returning each day from your personal
Advent Calendar
. The rewards get better and better each day up until Christmas so be sure to claim them all before the end of the month! You can claim your rewards with
/calendar
!
Holiday Gift Boxes and Cosmetics
Similar to Halloween,
Holiday Gift Boxes
have been implemented on Survival and will remain active until the end of the month! There are two ways to acquire them, through Vote Parties and through the
Server Store
. The Gift Boxes include various costumes and heads and a few other special items.
Charity World and Donors
The
Charity World
has been released! You can visit our holiday-themed build and see all the donors in the Charity World with
/warp charityworld
.

Thank you to all of the generous donors for their contributions to our charity fund this season!

CowMan18
Trex
Mbaqanga
McRaivs
Valphon
TheeRealDuke
Kisseh
slicks77
Lethosos
Disc ServerOwner
OutcastEnderman
HarshMM
Michael Hall/HawkeyeGuardian
DashDashDot
cptndarkwater
Shane Delorme
Carconkar
Eggy
xREGGIx
Zencros
xxTakinYoShizXx
Bhunt88
Blazerman14
DuckLord_ato
xgermz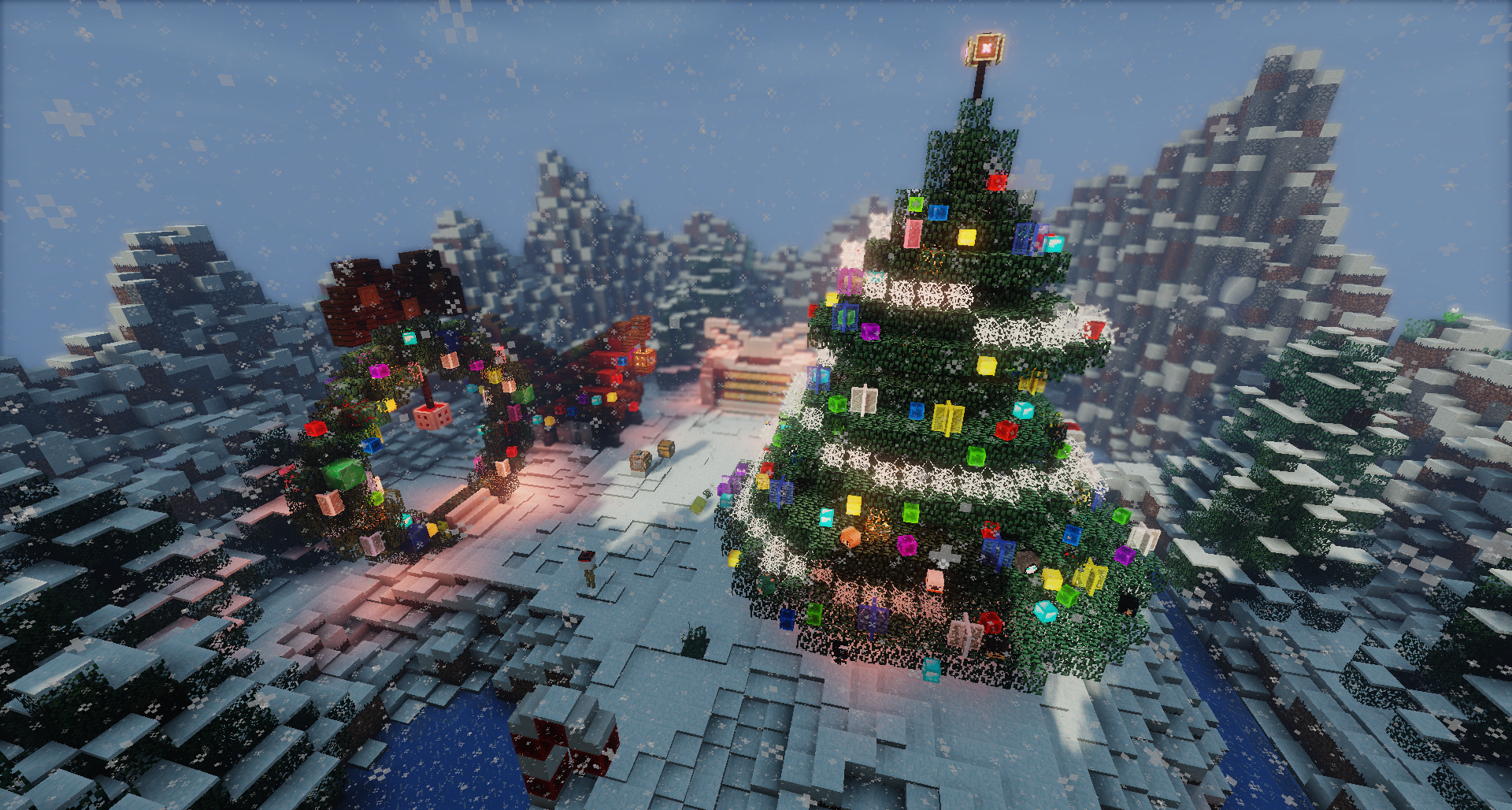 ​

Vote Parties
Vote Crates
have been renamed to
Holiday Vote Crates
and contain numerous holiday items and some more special rare loot like diamonds, money,
Holiday Gift Boxes
and some special enchanted tools! The crates were renamed to prevent those who stockpile crates from getting the bonus rewards to ensure it's a...